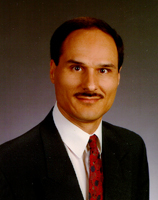 Cobra Master
John pursues numerous professional careers as a business owner and entrepreneur. John holds an MBA in International Business and a Paralegal Certificate.
John's hobbies include horseback riding, technical climbing, martial arts, volunteer fire-rescue, 4-wheeling, playing the drums, and of course, anything to do with computers.
John's affiliations include: Internet Society - DCISOC Member; Phi Theta Kappa Honors Society; Who's Who Among Students; Association of Old Crows; 82nd Airborne Association; Tread Lightly - Charter Member; Toastmasters International - CTM; Western States Security Consortium - Past Chairman; Professional Photographers Association; National Fire Photographers Association; National Paralegal Association; International Webmasters Association - Charter Member; HTML Writers Guild.
"Words whisper, deeds thunder" -- Chinese Proverb
...Ille potens sui laetusque deget cui licet in diem dixisse Vixi...

President: Rent-A-Hacker
Information Technology Security and Data Protection services.
Website: http://www.Rent-A-Hacker.com
E-Mail: Info@Rent-A-Hacker.net


Life Member:


Member:


Member:



Washington D.C. Chapter


PONDERINGS...

Why do they put Braille dots on the keypad of the drive-up ATM?
Why do we drive on parkways and park on driveways?
Why is it that when you transport something by car, it's called a shipment, but when you transport something by ship, it's called cargo?
You know that little indestructible black box that is used on planes, why can't they make the whole plane out of the same substance?
If you throw your pet cat out your car window would that be called CAT LITTER?
If you choke a Smurf, What color would it turn?
Corn oil is made from corn, olive oil comes from olives, so what is Baby Oil made of?
Don't sweat the petty things and Don't pet the sweaty things.
One tequila, two tequila, three tequila, floor.
Atheism is a non-prophet organization.
If man evolved from apes why do we still have apes?
Santa is very jolly because he knows where all the bad girls live.
I went to a bookstore and asked the saleswoman where the Self Help section was. She said if she told me it would defeat the purpose.
Should crematoriums give discounts for burn victims?
If a mute swears does his mother wash his hands with soap?
And whose cruel idea was it to put an S in the word Lisp?
If a man stands in the middle of the forest speaking and there is no woman around to hear him....Is he still wrong?
If someone with multiple personalities threatens suicide....is it considered a hostage situation?
Is there another word for synonym?
What should you do if you see an endangered animal eating an endangered plant?
If a parsley farmer is sued do they garnish his wages?
Would a wingless fly be called a walk?
Why do they lock gas station bathrooms? Are they worried someone will clean them?
Is a shelless turtle homeless or just naked?
Can vegetarians eat animal crackers?
If a mime is arrested do they tell him he has the right to talk?
Why do they use sterilized needles for lethal injections?
Why did kamikaze pilots wear helmets?
Is it true that cannibals won't eat clowns because they taste funny?
What was the best thing before sliced bread?