[dropcap type="1″]1[/dropcap]Cobra: A venomous snake, family elapidae. You can learn a whole lot more about this cobra here, 'cuz that's the cobras we've got on this site!
However, if you are looking for a different item, here are some other cobra alternatives: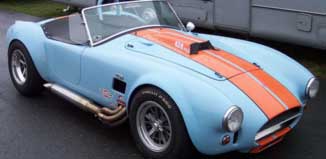 [dropcap type="1″]2[/dropcap] Shelby Cobra: A really kewl car. Wish I had one. Click on the pretty car to learn more about them, then e-mail me to make arrangements to drop your off at my house for awhile 🙂 OhmaGawdIwantOne! You can reserve one here.
[dropcap type="1″]3[/dropcap] The Cobra Position in Yoga is one of the 12 basic Asanas (postures) as taught by Swami Vishnu-devananda, founder and Guru of the Sivananda Yoga Vedanta Centers.  Don't try this at home kids. Check it out here if you want to learn more about it.
[dropcap type="1″]4[/dropcap] C.O.B.R.A: The insurance thingie. Readin' about this cobra is as exciting as cleaning your soap dishes, unless of course you're an H.R. or insurance kinda person.
[dropcap type="1″]5[/dropcap]Paddling along in a Cobra Kayak sure looks exciting! Now if I could just get them to send me a kayak for free…hehe…
[dropcap type="1″]6[/dropcap] Cobra Golf: Awesome golf clubs. Absolutely incredible products… these guys know how to make them! Check it out… after you're done here, of course.
[dropcap type="1″]7[/dropcap] 

COBRA

:

Inter-university Research Institute on Communication Technology (Wouldn't that be IRICT?) in The Netherlands.  Trying to prounounce the Board's names is worth a chuckle or two, unless your Dutch.  Interesting projects underway there if you're a net-techie.
[dropcap type="1″]8[/dropcap]COBRA/SAMBA: COsmic Background Radiation Anisotropy Satellite/Satellite. It's some kind of project of the European Space Agency to Measure Background Anisotropies.  I still have no idea what this means, and I spent an hour on their site reading about it.  Just a wee bit technical.  Have a ball with this one!
Have any other "cobras" that should be here? Drop me a note and let me know.  🙂
For more fast facts about Cobras click here.
For further discussion on snakes, scientific classifications, venom research and much more, check the resources available in "The New Encyclopedia of Snakes", available on Amazon.com.