Online since March 1, 1994.
Cobras.org was one of the first and only resources dedicated to the Cobra, the world's longest venomous snake. Whether you're doing a homework assignment or scientific research about cobras, there's sure to be something here for you. Cobra.org offered plenty of pages with detailed cobra information, and since 2014 – we provide updated info and news on other snakes and reptiles as well, in addition to hundreds of pictures and videos.
Cobras.org truly is a piece of web history. It was founded in 1994, and quickly became one of the most visited sites on the internet, and the No. 1 resource about Cobras. Disney directly linked to Cobras.org as the best resource of cobras on the planet. Other major media giants such as BBC News, National Geographic and Wikipedia cite Cobras.org in their articles. National Geographic describes Cobras.org as "An exhaustive site, covering everything you wanted to know about King Cobras and related species."
A Letter from Jeff Bezos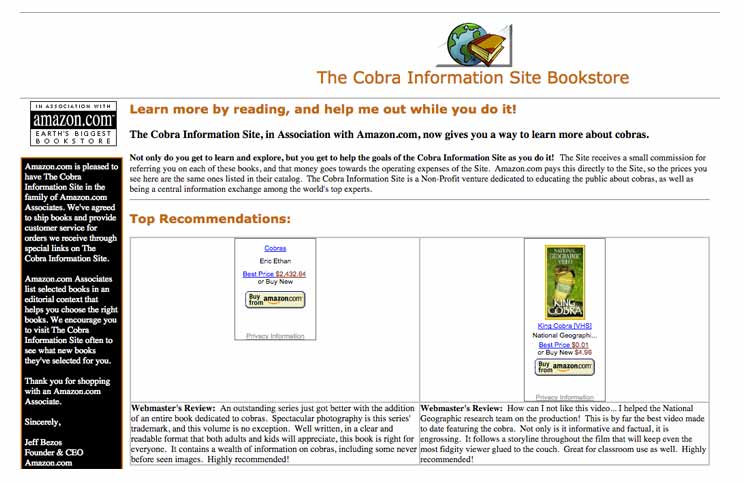 To show just how popular Cobras.org became, take a look at the personal testimonial from Jeff Bezos, the Founder of Amazon.com, "Earth's Biggest Bookstore" (Image on the right), as he told visitors why they should keep coming back to Cobras.org. This was probably how one of the first Affiliate Programs looked like back then. Take a look at the black sidebar in the image to the right, where the letter of Jeff Bezos is placed.
The Founder
Cobra Master, John Klein, lived with two Cobra snakes for many years. "Cobra Master" was the only nickname ever given to John. It was his flight name during his service in the Air Force. As a practicing non-conformist, John "had" to do a site that was different, so Cobras.org was born.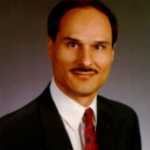 John pursued numerous professional careers as a business owner and entrepreneur. He holds an MBA in International Business and a Paralegal Certificate.
John's hobbies include horseback riding, technical climbing, martial arts, volunteer fire-rescue, 4-wheeling, playing the drums, and of course, anything to do with computers.
John's affiliations include: Internet Society—DCISOC Member; Phi Theta Kappa Honors Society; Who's Who Among Students; Association of Old Crows; 82nd Airborne Association; Tread Lightly—Charter Member; Toastmasters International—CTM; Western States Security Consortium—Past Chairman; Professional Photographers Association; National Fire Photographers Association; National Paralegal Association; International Webmasters Association—Charter Member; and the HTML Writers Guild.
In 2013, John Klein sold Cobras.org.
About Cobras History
Since the late 1990's and until 2014, Cobras.org was built on the same old HTML foundations, developed by Cobra Master John Klein. There were hardly any design improvements from 1994 until November 2014. In the image below you can see how our Homepage looked like 20 years ago. Indeed, a true piece of web history.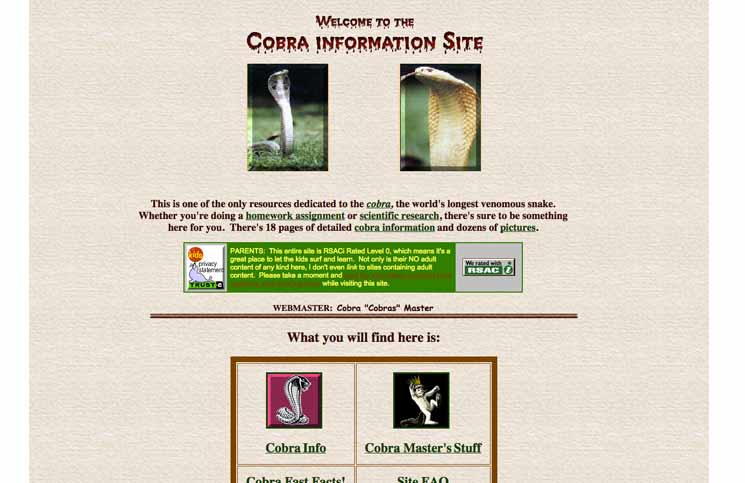 Present and Future
In August 2014, a new group of Herps and Journalists bought Cobras.org. This group has decided to revive Cobras.org and expand its reach and topics, from only about Cobras, to other species of snakes, as well as Lizards, Turtles and Crocs. We strive to develop Cobras.org into the Number #1 Reptile Portal on the web, delivering exciting and original content and news about cobras and much more.
This is to confirm my affiliation with the website
We hope you join our adventure, and enjoy the ride!