This is intended to be a…
SNAKE BITE FIRST AID GUIDE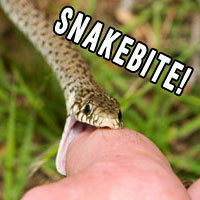 The first thing

is… remain CALM

.
If you can identify the snake do so.

It is better if you can safely take it with you to the hospital to be sure of getting the right anti-venin. However do not risk more bites to do so. Remember the holy rule of rescue: Do not create any more victims or risk further injuring the current victim.
Treat for microbial infection.

Bacteria which cause tetanus and gas gangrene have been isolated from the mouths of poisonous snakes. Cleanse the wound and if possible disinfect with Betadyne or other effective antiseptic. Cleansing and disinfecting the wound is the single most effective treatment you can give in the field.
The victim should also be sure his tetanus vaccine is up to date.
Anti-Venom Treatment: 

Definitive first aid treatment requires a physician who will administer anti-venom as well as other treatment. Most antivenin is made with horse serum so try to find out if the patient has any allergy to it and if so be sure the doctor is informed of that fact. Keep the patient as quiet as possible and evacuate quickly to medical facilities.