[vc_row][vc_column][vc_column_text]
This is intended to be a…
SNAKE BITE FIRST AID GUIDE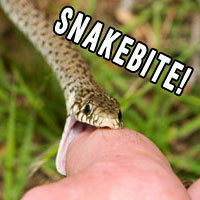 The first thing

is… remain CALM

.
If you can identify the snake do so.

It is better if you can safely take it with you to the hospital to be sure of getting the right anti-venin. However do not risk more bites to do so. Remember the holy rule of rescue: Do not create any more victims or risk further injuring the current victim.
Treat for microbial infection.

Bacteria which cause tetanus and gas gangrene have been isolated from the mouths of poisonous snakes. Cleanse the wound and if possible disinfect with Betadyne or other effective antiseptic. Cleansing and disinfecting the wound is the single most effective treatment you can give in the field.
The victim should also be sure his tetanus vaccine is up to date.
Anti-Venom Treatment: 

Definitive first aid treatment requires a physician who will administer anti-venom as well as other treatment. Most antivenin is made with horse serum so try to find out if the patient has any allergy to it and if so be sure the doctor is informed of that fact. Keep the patient as quiet as possible and evacuate quickly to medical facilities.
[/vc_column_text][vc_column_text]
A WORD ABOUT A COBRA SNAKE BITE
[/vc_column_text][vc_raw_js]JTNDc2NyaXB0JTIwYXN5bmMlMjBzcmMlM0QlMjIlMkYlMkZwYWdlYWQyLmdvb2dsZXN5bmRpY2F0aW9uLmNvbSUyRnBhZ2VhZCUyRmpzJTJGYWRzYnlnb29nbGUuanMlMjIlM0UlM0MlMkZzY3JpcHQlM0UlMEElM0MlMjEtLSUyMFJlc3BvbnNpdmUlMjBBdXRvbWF0aWMlMjBzaXplJTIwLS0lM0UlMEElM0NpbnMlMjBjbGFzcyUzRCUyMmFkc2J5Z29vZ2xlJTIyJTBBJTIwJTIwJTIwJTIwJTIwc3R5bGUlM0QlMjJkaXNwbGF5JTNBYmxvY2slMjIlMEElMjAlMjAlMjAlMjAlMjBkYXRhLWFkLWNsaWVudCUzRCUyMmNhLXB1Yi0zMjQzNDMwMzA4MDAxNDA4JTIyJTBBJTIwJTIwJTIwJTIwJTIwZGF0YS1hZC1zbG90JTNEJTIyOTIxMzg5OTU3MyUyMiUwQSUyMCUyMCUyMCUyMCUyMGRhdGEtYWQtZm9ybWF0JTNEJTIyYXV0byUyMiUzRSUzQyUyRmlucyUzRSUwQSUzQ3NjcmlwdCUzRSUwQSUyOGFkc2J5Z29vZ2xlJTIwJTNEJTIwd2luZG93LmFkc2J5Z29vZ2xlJTIwJTdDJTdDJTIwJTVCJTVEJTI5LnB1c2glMjglN0IlN0QlMjklM0IlMEElM0MlMkZzY3JpcHQlM0U=[/vc_raw_js][vc_column_text]
Most of the snakes of this species have a venom high in neurotoxin. This is particularly difficult to treat, both in the field and in a medical facility. The standard antivenin (antivenom) is less effective against it than against venoms with a higher percentage of hemolytic toxins.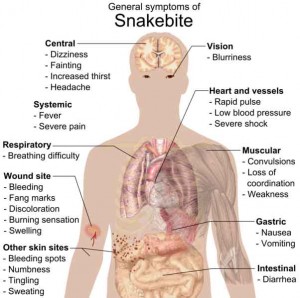 It is especially important to start treatment quickly for a cobra bite, and follow these steps:
The bitten limb must be immobilized and spread of the venom slowed as much as possible.
This is one case where it would be worth an extra effort to remove the venom if the conditions below can be met.
Also be extra diligent to in transporting the victim quickly to a hospital. Be prepared to provide breathing assistance. A victim alone should try to evacuate himself to medical facilities, even if this includes walking. Obviously he should do no more exercise than absolutely necessary. If the victim is accompanied by only one other person that person should do as much treatment as can be done quickly, then go for help.
Larger groups should send someone for help while others stay to provide as much treatment as they can, or start to evacuate the patient if possible. The object is to get the victim to a medical facility quickly with as little rough handling or movement on his part as possible. Helicopter evacuation is preferred but even having an ambulance at the trailhead is a great help.
Try to slow the spread of the venom. Use constricting bands above and below the site of the bite. These should *not* be tight enough to cut off circulation, all you want to do is slow down the movement of the fluids under the skin. Keep watching these bands, they should not be on a swollen area and you may have to move them as swelling increases.




AND I REPEAT:
Do not cut off circulation.

A more recent development for immobilizing the venom is to wrap the area snugly with fabric and immobilize the limb with a splint. Any type of fabric, including elastic bandages, works well. Just be sure it is not tight enough to cut off blood circulation and watch for swelling which might make it too tight. The bitten limb should be immobilized, especially if bitten by an elapid such as a coral snake. Treat it like a fracture. You will not be able to remove very much of the venom, almost none in an elapid bite where the chewing will have dispersed it. However, you should try if *all* of the following criteria are met:
 You can start venom removal within 10 minutes (thereafter it tends to be so dispersed that you will not likely be very effective).
You have appropriate suction devices to remove it. This means a syringe style suction device, the rubber suction cups often sold in "snake-bite kits" do not develop enough suction to do the job. It is not necessary to cut the wound to suck out venom, it went in through the fang marks and can come out the same way.
You should not try to suck it out with your mouth

. That is not likely to be effective, risks venom getting into your bloodstream via an open sore, and most importantly is likely to further contaminate the wound. If you lack an appropriate suction device, forget it. If you do try to remove the venom, place the suction device over the fang marks. They may not always be obvious if the snake has bitten hard enough to leave marks from other teeth also. Be aware that you are not going to get out much of the venom. Removal of 5 to 15% would be about all you can expect. The sooner after the bite you start the more effective you will be, the venom disperses quickly.
Do not cut into the flesh

around the fang marks. While this can, in rare cases, facilitate removal of venom it is also very dangerous. Unless you really know what you are doing you may do more damage than the snake did. Muscles, nerves, and blood vessels may all be in the area and you can damage them, sometimes permanently.
Cold Therapy

is mentioned only to *strongly* advise against its use. It is *not* effective and, particularly in the case of a pit viper bite, will impede recovery. Cold will restrict circulation already compromised by the damage to blood vessels. Furthermore, the body's principle detoxifying mechanism appears to be the action of antibodies against the venom. Lowering of the temperature retards access of antibodies to the toxins. Cold therapy apparently was proposed on the assumption that the venom is an emzyme. In fact most are peptides which cooling does not inactivate.
The most effective thing you can do is to be prepared. Carry a cell phone or other means of emergency communication when hiking or camping, and know how to reach rescue personnel. Carry a snake bite kit when you will be in proximity of venoms snakes, including horseback or motor vehicle trips in these areas, especially if professional trauma level care is not readily available.
Remarks:
Competent medical attention should always be sought at the earliest opportunity.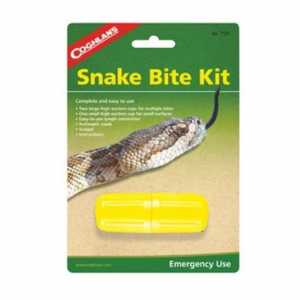 Hope you learned something from this Snake Bite First Aid Guide. 
For more fast facts about Cobras click here.
For further discussion on snakes, scientific classifications, venom research and much more, check the resources available in "The New Encyclopedia of Snakes", available on Amazon.com.
If you feel like a having a real Book on Snake Bites, then get this book: 'Snakes and Snakebite' by Visser, J. & Chapman D.S.
And if you love African Hot snakes, this is THE Book for you:  'Dangerous Snakes of Africa' by Spawls, S. and Branch, B.
DO YOU WANT THE SNAKEBITE FIRST AID GUIDE ON YOUR SMARTPHONE OR IPAD? 

Download now!
[vc_single_image image="2217″ img_size="720×200″ alignment="center" onclick="custom_link" link="//cobras.org/king-cobra-31-facts/"][vc_column_text]
[vc_button title="DOWNLOAD GUIDE" target="_self" color="red" size="size_large" href="https://gallery.mailchimp.com/726a23d318e63b0392ac9c216/files/Snakebite_First_Aid_Guide_02.pdf"]
[/vc_column_text][/vc_column][/vc_row]