Linkssssssss

Herp links, databases and other online resources for more information... these are some of the best on the web!
---

Allen Hunter's Black mamba Info Page - Allen is one of the most knowledgeable hot handlers I've come across...his site is a must see.


There's more motion here than two sidewiders dirty dancin! Do check out this one -- the animationa are worth the trip, as well as the content.


Probably the most complete list I have found so far....and it's alphabetized!


The AllPets Yellow Pages is just that, a list of all types of creatures in an easy to follow Yellow Pages format.


Harvard, yes Harvard Has Herps!


They may call 'em "erps", but the Austrilians still know more than a thing or two about 'em.


Links from the Hip Herp Site of the Week folks.


Liza Daly's very informative list contains info. on mailing lists, newsgroups and other non-web resources, as well as many www links.


A great list of herp clubs can be found on this site.


Lots of data, lists and a great herp glossary can be found here.


BJ Herbison's new Snake Info Page.


Henrik Lundstrom's "Snake Quiz" page...lotsa fun!.


Erik Stenström's Snakepage - Lots of good info., and he loves cobras! :)


Bluegrass Herp Homepage - Breeder and herp educator's site.


Shane Siggins' Global Dynamics Site - Breeders. Liked his homepage image of a cobra enough to let the commercial content slide. ;)
---

Global Environmental Information Locator Service (GELOS)
GELOS is part of the G7 Environment and Natural Resources Management project (G7-ENRM) whose main objective it is to create a globally distributed virtual library of ENRM data and resources.
[Enter the ENRM]

[Webmaster's Note: This site is an incredible worldwide research database of information pertaining to a variety of subjects generally related to the environment, conservation and earth sciences. Since they were nice enough to list the Cobra Information Site as a resource, I have provided this link for your use if these subjects interest you. -- jak]
---
BioMedNet

Full Text Library
Hundreds of full text publications in biology and medicine. All abstracts are free. Some articles are free and all others can be purchased online.

EvaluatedTM Medline
BioMedNet's MEDLINE service with
full text links and expert annotations
HMS Beagle
Our award-winning magazine
of science news and features

Job Exchange
Hundreds of job listings
from around the world
Shopping Mall
Blackwells Bookshop, Oxford University Press Catalog, software, lab equipment, and more
[BioMedNet is another useful resource, especially for medical professionals seeking annotated ot evaluated texts. Again, had to list this one since I'm listed there. :) -- jak]
---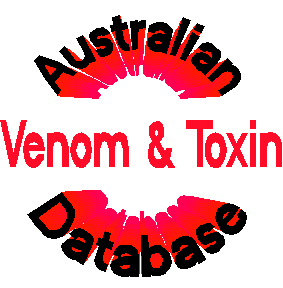 Australian Online Venom & Toxin Database

Discussion Group
The purpose of this group is to be an interactive forum in order to provide an online scientific discussion of Australian venomous snakes and other venomous animals for researchers and devoted amateurs. The focus is primarily on the venom and the clinical effects of the venom but relevant taxonomical discussions are appropriate. Discussion of non-Australian venoms or toxins will also be allowed. For a discussion of non-venom related topics concerning non-Australian venomous animals please go to http://www.kingsnake.com/forum/venom. For general care and feeding of reptiles please visit the rec.pets.herp newsgroup.

[This one is hosted right here on our server! -- jak]
---
On-Line Medical Dictionary
"OMD is a searchable dictionary created by Dr Graham Dark and contains terms relating to biochemistry, cell biology, chemistry, medicine, molecular biology, physics, plant biology, radiobiology, science and technology. It includes: acronyms, jargon, theory, conventions, standards, institutions, projects, eponyms, history, in fact anything to do with medicine or science.

It aims to provide a one-stop source of information about all medical and scientific terms and includes many useful cross-references and pointers to related resources elsewhere on the Internet, as well as bibliographical reference to paper publications. It lacks many entries which one can find in paper dictionaries but contains more encyclopaedia-like entries and entries on various subjects. It also contains many definitions in related areas.

The dictionary started in early 1997 and has grown, to contain over 46,000 definitions totalling 14.5 megabytes. Entries are cross-referenced to each other and to related resources elsewhere on the
>net. It is freely available on the Internet via the World-Wide Web."
---

Herp Site Webmasters: Click here for recip link info!

Heres a great poem about animals by 8 yr. old Alex Cornelius!

Here's an interesting article about a man who gets bitten on purpose!
Here's another article about venomous tree dart frogs and their toxin

---