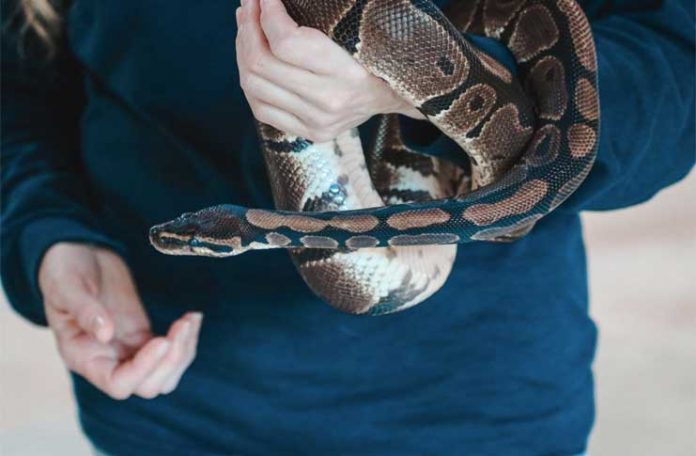 Snakes amaze people; they are elegant minimalists. Their entire body is streamlined and purposeful, meaning that there is nothing in abundance.  Inside the body, the snake's lung has only one flap, and the heart has only one chamber. Working from within the skin, flexible ribs act like small arms and legs; that's the thing that distinguishes them from different reptiles and their amphibian ancestors.
Snakes are noteworthy because they can move without legs. By muscular and undulation movements, their specialized belly scales go up on trees, rock fences, cliff ledges, and barn walls. Snakes sense vibrations through the earth, taking note of danger. For more snake facts check this post.
The snakes release their outer skin during the shedding process called ecdysis. The animal that has such a simple way to deal with life also takes care of its life by just one significant move: shedding its external skin. This assists the snakes to grow and to get rid of parasites, similar to a dirty old sock. You've probably come across dried natural design wonders, like wasps' nuts or mantis cocoons, when outside hiking or cleaning your garden.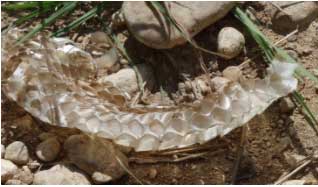 Different factors such as age, type of snake, health, etc. determine how many times a snake sheds its skin in a year. Sheds are typically dried and delicate when found. Snakes generally don't shed in a place where they spend most of their time. They need something to rub against their body, which helps them in shedding their skin. 
Identifying Snake Sheds:
Herpetologists generally have a great knowledge of reptiles and amphibians. They are able to identify snakes from their sheds. The shed skin of a snake is essentially larger than the one it carried because the skin has to be stretched to be pulled off from the snake. Both the length and width of the shed can give clues to the snake's body shape and size. The skin tissues get relaxed and stretched. The intestinal area between the scales permits intricate folds when it's time to let go. If you want to identify a snake by its sheds, turning the fragile skin to the right side is the delicate option. 
It can easily breakdown by wind or animals or tear itself as a result of drying out. In case it is torn or distorted, it needs to be carefully photographed at each step of inversion.  You should have the ability to count scales and gain proficiency in learning their names to identify the species. 
 If the skin has been exposed to certain elements for some time, color patterns on a shed can be difficult to see. The shape or state of the head is a more easily recognizable difference between venomous and non-venomous snakes. If you can make a little pit between the eye and nostril if the head is intact and arrow-shaped, then you are probably going to have a venomous snake. The Coral snake is a special case in North America. 
 Here, I have explained some ways for a snake's identification by its sheds. By looking closely at the scales, we can determine whether they are keeled or smooth. Smooth scales don't possess any ridges, while keeled scales have a small ridge that passes through the middle.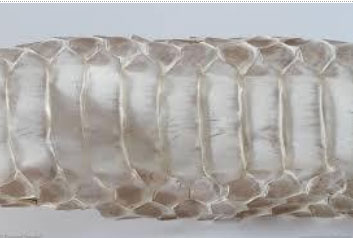 By examining the close-up view of the scales, you can see that they are smooth. We can identify several species, including the Northern Water Snake and the Garter Snake. As it has weekly-keeled scales, we can rule out Black Rat Snake. 
To distinguish it from the remaining snakes, we need to look at the anal plate. This can either be single or paired. It is located at the end of the belly scale on the body of the snake. It can be seen in the below photo that is shown in the circle. The snake tail is at the left and head on the right of the anal plate.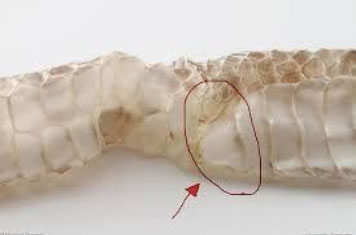 In the photo above, the anal plate on the skin is not divided but it is single. Racer snakes have anal plates that are usually divided, but single anal plates are present in Eastern Milk Snake. Therefore, it is an Eastern Milk Snake (Lampropeltis triangulum).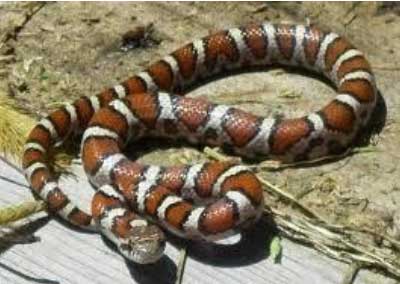 Can you identify a snake by yourself?
The design of scale gives significant clues to most of the experts, and they pay more attention to the head. Professionals also find out other hints to identify snakes such as their diameter, scales on the body, and the length of the shed skin. But, unfortunately, shed skin generally doesn't have any color and it's very challenging to identify the exact snake, specifically when there are two similar species. 
It's possible to distinguish a snake by yourself with some patience, but it will be challenging. However, you need to have an intensive guide to handle snakes. If you want to do it by yourself, start by focusing on the length of the shed. Generally, the shed skin will appear longer than the actual size of the snake, but you can check potential snake species based on the length in your list. 
At the next point, investigate the size of the shed skin. This will be your initial step towards observing whether the snake is dangerous. In various areas of the United States, non-venomous snakes are commonly thin and long, while venomous ones are thick and short. 
Unfortunately, this standard is not valid in every case, so it is necessary to look at other factors to identify a snake. Now you need to look at keeled scales and smooth scales. Keeled scales generally have a ridge that runs along the center, and it can help you in identification. Then try to find out related patterns on the skin.  After considering all these factors, if you are still having trouble identifying your snake, check out snake-removal.com and email them a picture of your snakeskin, and they will reply with an answer, how cool!