Since breaking loose from his owner's home in Orlando, the runaway King Cobra snake has become a nationwide phenomena. First, it made almost every news channel in the country, including CNN, Fox and BBC. Then, the King Cobra snake went social, and immediately became viral.
Hundreds of thousands of people started posting all sorts of posts and tweets about the King Cobra snake, some were funny and creative, some alarmed and terrified. We at Cobras.org even had the honor to feature on some TV Host's Tweet.
The funny and parodic tweets and posts were posted by new farce accounts that popped up during the last week, each claiming to be the runaway King Cobra, one of the deadliest snakes on the planet. Among theses you can find tweeter accounts @orlando_cobra1, @KingCobraORL, @orlandocobra15, and many others.
"Spent day 3 working on a disguise to blend in the community…", says one account with a matching hilarious picture of a Snake-Man, while another account just shouts out "I.AM.FREE"". Some users amusingly pretending to be the Cobra snake even tried to make their personal statement through the runaway King Cobra: "My mission is clear. I must free my brothers and sisters in captivity. " Others report of the great time the King Cobra is having in downtown Orlando, enjoying every moment of his freedom.
Law enforcement officers and many other snake handlers have been searching the dense wooded area for days, but until this very moment, officials have yet to catch the runaway King Cobra snake.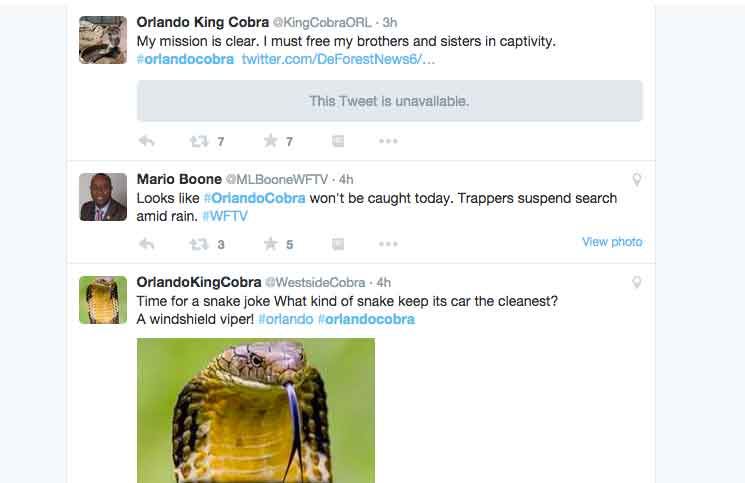 Our bold guess, is that the runaway King Cobra hasn't really "run" far. It's probably just hiding somewhere close by to the home it escaped, but that can be any tiny hole, AND – the King Cobra could stay put in the deep for quite a while. Let's hope no one confronts it aggressively, and no one gets hurt.
In case you do survive the ordeal, you can already purchase a cool T-shirt that's out there, saying "I Survived the King Cobra Escape of 2015!". 🙂