This is the story of the very first Cobra Car, one of the most popular cars in American sports car history.
It all started in the early 60's, when American automotive designer Carroll Shelby had a bold dream. The young designer wanted to create a unique American sports car that would become a "Corvette-Beater". Before becoming a car designer, Shelby was one of the world's first professional race car drivers. However, at age 37 he was forced to retire from car racing because of heart problems, so he begun building cars in the backyard of a tire dealership in Santa Fe Springs, California.
In 1961 Shelby flew to England, where he met the Hurlock family, owners of the successful AC Cars – one of the oldest independent car makers in Britain. Shelby asked them if they would build him a car that would be modified to hold a V8 engine. The British automobile manufacturer agreed, with a condition that a fitting engine could indeed be found. Shelby flew back to America, walked into Chevrolet and asked if they would supply him with the required engines. However, the American car manufacturer already produced the powerful Corvette, and didn't really want any competition, so they politely said "No". Shelby didn't give up so fast. He went on to visit Ford, who exactly at that time was looking to produce a car that could compete with the Corvette. Surprisingly, Ford had just produced a brand new lightweight V8 engine – fitting Shelby's requirements perfectly. Ford gave Shelby two engines.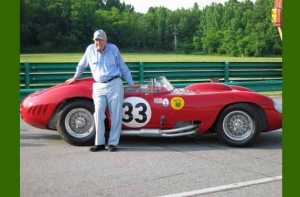 In 1962, in a small suburban village on the edge of southwest London, AC Cars began building the prototype chassis for the first prototype of the AC Shelby Cobra car. The british chassis was then flown to Santa Fe Springs, California, where Carroll Shelby and his team assembled it with the Ford engine and transmission. Soon after they began road-testings for the first AC Cobra prototype.
The tests went smoothly, and so did the production that followed right after. Production even proved to be easy, since AC Cars made almost all the required modifications back in the U.K. They would then ship completed, painted and trimmed AC Cobra cars to Shelby's workshop in L.A. Shelby then only had to install the engine and gearbox, correct any bodywork flaws and a new AC Shelby Cobra car was created.
The first AC Shelby Cobra cars, named Mk1, were fitted with a 4.3 L (260 cu in) engine, while the later Mk1 models were fitted with a larger 4.7 L (289 cu in) Windsor Ford engine.
Soon after completion, the first Cobra Car was given to Sports Car Graphic's editor for a cover feature that later came out in their May 1962 issue. The magazine described it as "one of the most impressive production sports cars we've ever driven. Its acceleration…can only be described as explosive and at least equal to that of the better running hot Corvettes and Berlinettas we've driven."
Later on came the commercial agreements with both AC and Ford, and the Cobra Car became available for sale at all the Ford dealers. It had a unique front badge: 'A.C. Shelby Cobra', with the official 'Powered by Ford' emblems.
On February 2, 1963, with an AC Shelby Cobra weighing 227 kg (500 lb) less than the Chevrolet Corvette, Carroll Shelby was about to realize his dream of creating a "Corvette-Beater". At the Riverside International Raceway, driver Dave MacDonald piloted the lightweight AC Shelby Cobra roadster past countless Corvettes, Jaguars, Porsches and Maseratis. It was AC Cobra's first victory in history. Shelby would later produce a limited package of DragonSnake Cobra cars that would win several national racing events.
Watch video clip of Dave MacDonald's historic victory with the AC Shelby Cobra: 
In 1964, back in England, during a shakedown test, an AC Shelby Cobra Coupe driven by Jack Sears and Peter Bolton was recorded speeding at 299 km/h (186 mph) on the M1 motorway.
Since then, Shelby has produced some AC Cobra cars that have become among of the most sought-after and replicated automobiles ever. Unlike other sports car manufacturers, Carroll Shelby kept the first Cobra car in his own possession, until his last days. In the late 2000's he even took it out for a ride and said "it felt just like it did nearly forty years ago, same tires, same wheels, same old 260 engine."